TELENOT is at your side as a leading manufacturer in the field of electronic security technology for more than 50 years. TELENOT stands for innovation, reliability, solidity and optimum customer service since then. We cover all processes, from development, production, training, planning and comprehensive technical and sales-related services.
The focus of our corporate philosophy is on providing reliable and guaranteed protection of life and limb, people, property and buildings against intrusion, hold-up, unauthorized access, fire and technical hazards.
We provide security solutions to suit all industries, no matter what your specific requirements are:
Retail stores, chain stores or discounters
Banks or office buildings
Commercial and industrial facilities, craft enterprises
Public sector
Private homes
Your satisfaction and safety is our inspiration. This trust is MADE BY TELENOT.
Security knows no compromises - Optimum protection around the clock

Security requires continuous stability. Security products have to operate reliably and failure-free
24 hours a day
7 days a week
365 days a year
and for years to come in order to ensure that the life-saving signal will be generated at the decisive moment. The principle of a chain only being as strong as its weakest link certainly applies here and a hazard alarm system made up of different security components is only as good as its weakest component.
Here at TELENOT, we know and understand every "link" of our TELENOT hazard alarm systems. TELENOT is proud of its manufacturing depth. For us, outsourcing and cost-cutting at any price at the expense of quality and flexibility are simply out of the question. Your satisfaction and your safety are the focus of our main concern and our motivation.
In view of the above, Telenot as a leading manufacturer of electronic security and alarm systems is your reliable and competent partner. We at Telenot always aim to offer the highest quality standards with regard to development, production and customer service at our company locations in Germany, Austria, Luxembourg, Poland, Hungary and Switzerland.
Telenot components and products are perfectly matched to guarantee a completely reliable security system – a security system you can trust.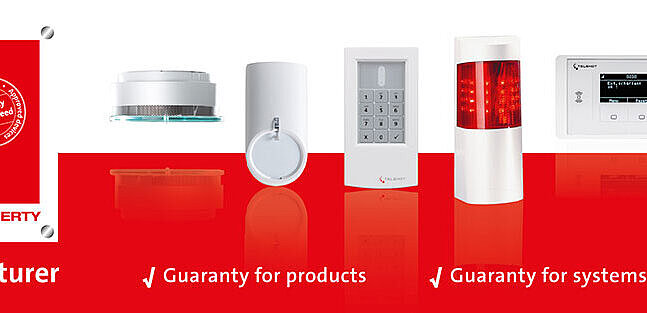 Approved security - Because quality counts
Our development and manufacturing depth guarantee unique quality standards and long-term delivery reliability. With a manufacturing depth of 90 percent, TELENOT is your reliable partner in the electronic security market.
The whole development and production process takes place under one roof at TELENOT, starting from the development of hardware and software for all security components, development of electronic components and housings, toolmaking, plastic injection molding, metalworking and the assembly of complete circuit boards and quality control.
Each individual component as well as the interaction of individual components as part of a complex security system undergo multiple quality testing procedures throughout the development and production process.
When selecting the materials and electronic components for our products, we focus on ensuring maximum reliability and extended lifetimes. We stand for reliable and long-lasting single components and systems and are your reliable partner, delivering security products today and in the future.